Crochet
Everyone has a hobby, or two, they just love. Mine is crochet. I think my love of crochet stems from many hours watching my Grandmother, Mother and Aunts create beautiful items from crochet. I can remember them carefully selecting just the right yarn colors and the perfect design, making exactly what they wanted. I tried to learn this art when I was a young girl but I could never get the hang of it, probably because I am left handed and my teachers were all right. I finally taught myself using books when I was a teen. My first projects consisted of scarves, scarves and more scarves. Since then I have continually read and learned all I could about crochet. I recently found a great book Yarn, yarn, yarn: 50 fun crochet and knitting projects to color your world , I found it so inspiring! Check out this link to request it yourself through Mid York Library system Yarn Book .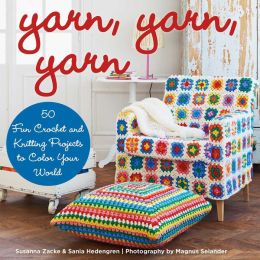 If you want to learn to crochet New Woodstock Free Library has two great beginner books Not Your Mama's Crochet and Teach yourself Visually Crocheting .
I crochet for so many reasons. I really enjoy being able to make gifts for my family and friends. I also like that I can be creative and make each project my own. Mostly I love how crocheting connects me to my childhood and to other crochet lovers.
What hobbies do you want to learn about or already love?
Lisa